August 29, 2021
John Arendsen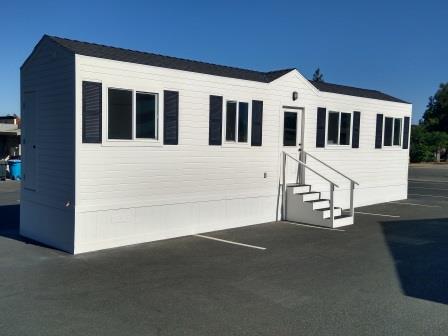 "Tiny Homes" now allowed as "Accessory Dwelling Units" in the City of SAN DIEGO
Tiny Homes can be the ideal solution for a property/homeowner/investor with a small lot/parcel. The best news of all? Availability! They are available now. Not 4-6 months or even a year or more from now. We have them in stock at the San Bernardino factory and showroom. We will be happy to take you up there and let you tour the factory to see how well they are
Constructed and view some of the completed inventory to see how they are furnished.
If you don't see something you like you can sit down with us and the factory rep and spec out your own home.
The best news of all? They can be permitted and installed for between $75,000 & $95,000 (Note: All projects are site specific and installation prices may vary accordingly. The above prices are average.) 
In certain instances they are even allowed throughout any/all local San Diego Jurisdictions. Contact CREST BACKYARD HOMES for pricing, permitting, delivery and installation information
The City of San Diego will now issue a permit for what is considered a TINY HOME or TINY HOME ON WHEELS aka THOW. A building permit is required but the entire process and experience takes a lot less time and costs thousands of dollars less. In certain instances they are even allowed on any lot or parcel in the County.
Below is the actual text from the San Diego Building Department
 County of San Diego, PDS, Zoning Division TYPES OF ACCESSORY UNITS
"A trailer coach or mobile home used exclusively for temporary occupancy by either: (a) providers of health services which are
required by an occupant of the main dwelling, or (b) relatives of an occupant of the main dwelling who requires physical care. Interior floor area maximum is 800 square feet. A Park Model Trailer may be allowed as a Temporary Health Care Dwelling, provided that all requirements are met. See Section 6118.b.3 for complete information."
"Zoning Ordinance Section 6156 regulates temporary trailer uses and states that a Park Model trailer may only be used (with issuance of a Building Permit) as a temporary use on a private lot for one of the following: temporary health care, farm employee housing, or temporary occupancy during construction of a single-family residence."
Our line of Back Porch Homes range from 8'6″x20′, 8'6″x30′ and 8'6″x40′. Please see the photos in the brochure for features and details and contact us for further information on price, site preparation, permitting, delivery and installation information .
These TINY HOMES are the perfect answer for property homeowners with very small lots/parcels. They can be easily trailered with a 3/4 ton truck and installation is a lot less complicated and time consuming.
The BACK PORCH HOME is great as a travel trailer to your favorite fishing, boating, forest retreat or desert getaway.
BACK PORCH HOMES are not your average trailer. They are built with all the same building components used in traditional site built homes.  The quality is unparalleled at every stage of construction.