February 9, 2021
John Arendsen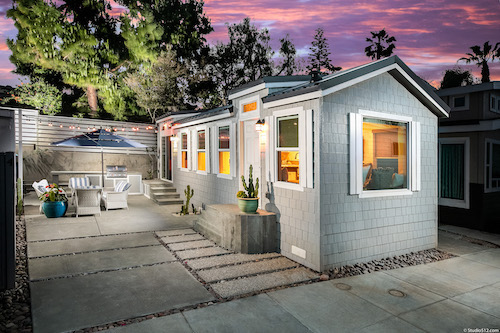 HUD Manufactured ADU Permit and Installation Process
HUD Manufactured ADU's aka BACKYARD HOMES, unlike the traditional ground up, site (stick) built construction process, is much easier and far less expensive and time consuming to permit and install. HUD Manufactured ADUs are regulated by Title 25 of HUD Manufactured Housing Program (OMHP) protocol and because it is built in a factory different rules apply.
As an investor time is money. Investors want the fastest and easiest way possible to navigate through the permit and building process because the sooner their project has been signed off by the building inspector the faster they will be able to revisit their investment capital and start realizing a return on their investment (ROI). 
A property/homeowner is not much different. They want to have access to their new abode as quickly and painlessly as possible as well; Especially if they are using construction funds at a higher interest rate than the long term loan they will receive when the project has been completed.
HUD Manufactured ADU's are a far better solution than the traditional site (stick) built option.
Factory labor typically runs about 50% less than field labor.
There is less than 5% waste in materials.
The entire building process is done in a factory controlled environment.
Lumber is kiln dried, straight.
Not green, wet, warped or cracked.
It's free of airborne termites and other pests.
There's almost a zero chance of vandalism and theft.
You won't have to deal with the high volume of foot traffic, myriad trades, trucks, equipment and building materials living with you for months on end.
All structural and construction inspections are performed in the factory by HUD certified inspectors.
Title 25 supersedes all local building jurisdictions eliminating several inspections i.e.

 

foundation
anchor bolt and hold down

 

drywall and siding nail patterns
roofing
insulation
interior electrical, plumbing, HVAC, etc inspections, etc
This allows the entire building process to move much more efficiently and is far less time consuming.
The only permits you will need to pull is the

 

State engineered and certified mechanical foundation support system designed exclusively for HUD Manufactured Homes and ADUs
Installation manual.
Large volumes of plans, specifications, details, cross sections, etc are not necessary because the HUD Manufactured ADU is delivered to the site 100% code compliant and ready to install.
It is move in ready immediately after the final inspection has been completed and a Certificate of Occupancy (CO) has been issued.

 

This eliminates what can amount to weeks of plan reviews, corrections, re submittals ad nauseam and finally approval. It's not unusual to get tied up in just the plan review process for months in some cases.

 

Add to that myriad fees that are charged by the building department for various services and it's not hard to understand why the site built option can be extremely time consuming, costly and frustrating.

 
Bottom line when all is said and done a HUD Manufactured ADU aka Backyard Home can be built and installed in 4 to 6 months compared to the 12 to 18 months it can take with a site built option.
If you would like a more comprehensive overview of the entire protocol that we use from beginning to end on every project be sure to log onto our ADU GUIDE